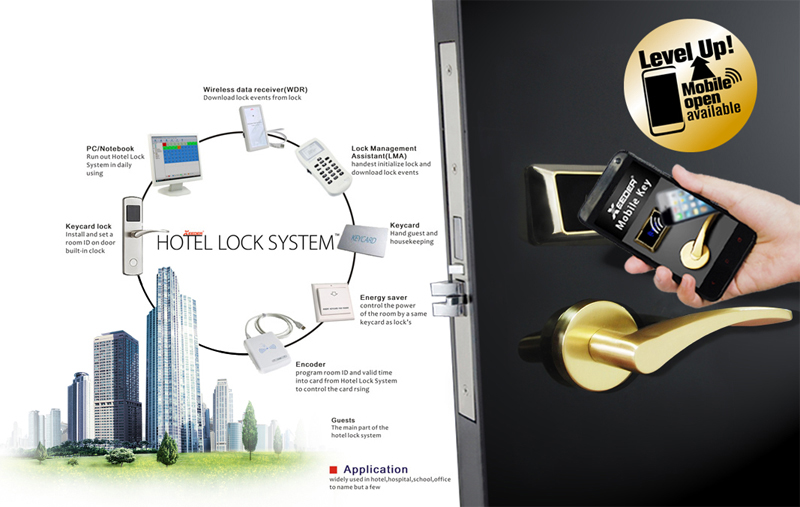 Xeeder Technology Co.,Limited , founded in the year of 2006 in Shenzhen, China, is a world famous security enterprise who mainly produces smart card door lock which was already successfully applied with NFC function.
Xeeder continuously got the ISO9001:2000 Quality Management System Certification from 2009 to 2012 and supplied smart door lock for SIEMENS in 2010.
In 2011, Xeeder software interface was approved by Micros-Fidelio, the international most authoritative PMS system. We are one of the few lock manufacturers which build relationship with Micros in China Mainland.
Xeeder core technology is always at the leading level in the world and we never stop the pursue of innovation and improvement on product, and that's the soul of Xeeder's prosperity and the key to becoming more and more popular in the world in the past 7 years.
We are one of the first and fast few companies in China developing NFC technology in door lock system and we launched NFC hotel lock system ahead of other smart door lock manufacturers in China because of our relationship with NXP, the leading group in NFC. The Greater China CEO of NXP visited Xeeder in Shenzhen in December of 2012 and signed cooperative agreements with Xeeder to supply stable and long term technical support for each Xeeder NFC hotel door lock product.
Xeeder hotel lock system is already being used by customers located in over 50 countries and regions, including not only developing countries likes Brazil, Africa countries and Vietnam but also countries in Europe and the United States of America.

Xeeder Hotel lock system covers various fields, besides hotels, we also receives high recognition from resorts, apartments, schools and hospitals. Famous partner like Malaysia's 360 hotel groups, Myanmar P.A.G group, Suretech from USA, and Full Lock in Argentina.