The Asia Pacific's largest catering and hotel equipment exhibition was held in Hong Kong Convention and Exhibition Center in May 06-09 2015.The exhibition area, breaking all previous records, covering 65,000 square meters, exhibitors leased area increase compared with the previous 13%.
HOFEX is committed to buyers from around the world looking for the highest quality food and beverage, hotel and restaurant equipment, for their trip to bring more exciting purchases.
Last session, the biennial exhibition attracted a total of nearly 38,000 global buyers' visit.
Once again, this year's exhibition is home to over 2,400 exhibitors and 44 official international delegations arriving, to show buyers from 58 countries over 10,000 of the world's leading food and equipment, as well as related information.


This year's HOFEX set not only meats section, coffee zone, hotel and hospitality technology zone, and wines and spirits TSA qualified, but also exhibition activities to created more comprehensive international exchange platform for the industry, including General Manager of Asia-Pacific Summit and Hong Kong International culinary awards, Hong Kong International Wine Awards, as well as bartenders in the world open, hotel design forums.
Hotels in IT and technology has always been the most popular area, industry leaders from around the world have unveiled their latest technologies and services. Xeeder also exhibiting an epoch-making door lock systems-We chat door lock,which attrack stream of guests consultation. Many visitors succeed open Xeeder hotel lock with their own mobile phone,after they follow WeChat public number of Xeeder.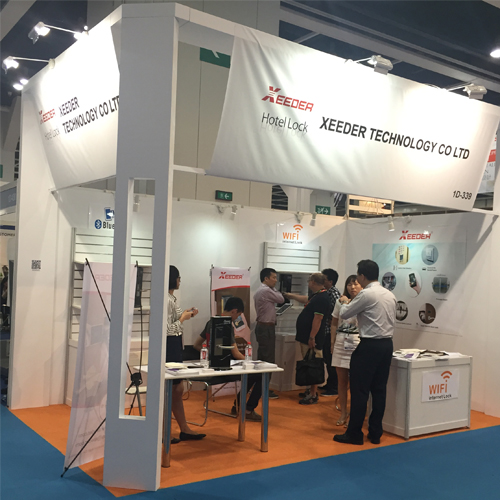 App WeChat lock applies to all smart phones, as long as loading app, you can use!

Considering the guest experience, Smart mobile's popularity, Costs of lock, Xeeder already introduce a innovation smart phone lock system,which is bound to set off a revolution of hotel intelligent door lock system!