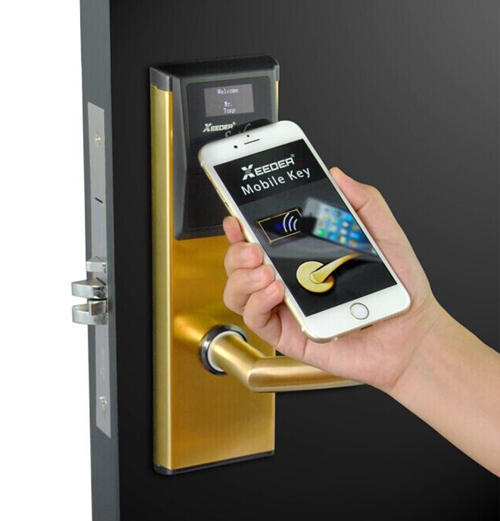 Xeeder MobileKey Revolution again-NFC+Bluetooth+RFID 3 in one door lock.
Powerful features: NFC and Bluetooth 4.0,RFID cards combined into one single lock, can be used to meet a variety of applications.
A perfect system-doorlock + Enery saving switch+ Wall reader+Elevator controller-Perfectly compatible controlprogram, It is the world's first mobile phone truly practicallocking system.
Remote send key-Mobile key can be sent via the Internet or SMS to mobile phones, User open the door by mobile phone via NFC and Bluetooth BLE technology.
Low power consumption-quiescent current is less than the whole machine 0.08mA,4 alkaline batteries can be used more than 1 year.
Reliable safety-BLE,the world's highest level of high accuracy detection technology to ensure that the locks only can be unlocked while mobile phones fall in the range of 10CM in order to avoid accidental unlocking of mobile phones in the room or the hallway.
Support model: iphone 4s,5,5c,5s,6,6 plus
iOS version: not old than iOS 7.0