Dear customers
To let you get better using experience of Xeeder product. We did update several functions of Lock Management Assistant(LMA) against many customers request.
It is LMA v1.2 version.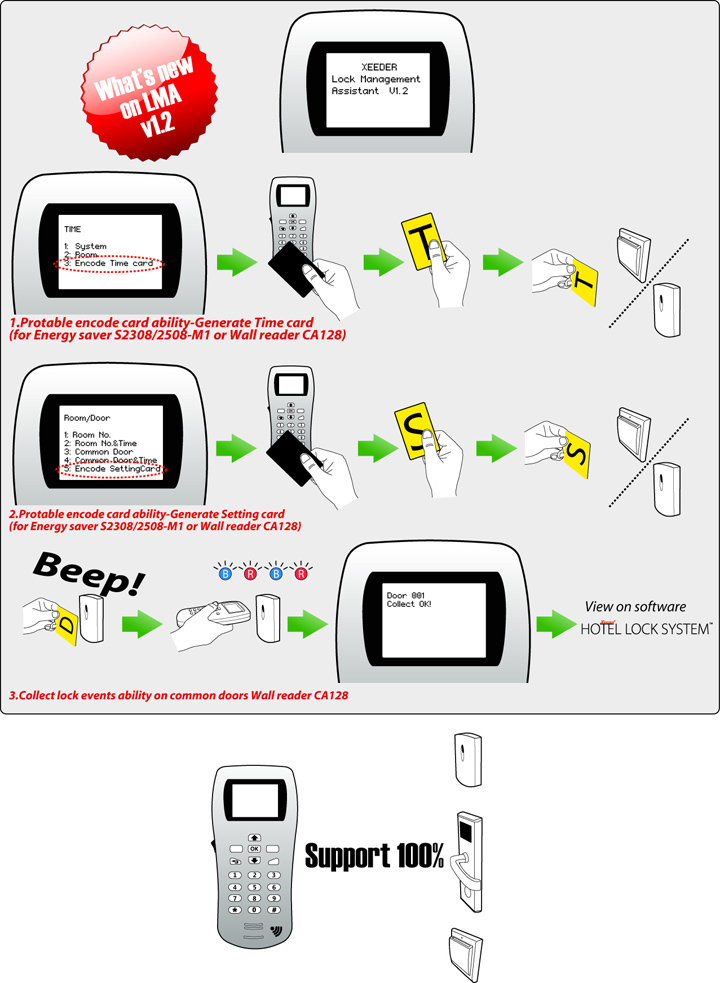 What's new on LMA v1.2?
Protable encode card ability-Generate Time card
This is a very important function added especially for Energy saving switch and wall reader.
Normally Energy saving switch(energy saver) and wall reader must read a fresh time card while they were did initialization or time calibration.
However, because of the instruction of hardware, LMA could not work on them directly.
But v1.2 offers a solution that allows user program a Time card without need go back to PC desk.
What's more important is that the Time card generated by LMA v1.2 is alwasy a fresh Time card because it is made based on the clock built-in LMA.
So,it level up the accuracy of time card and reduce much more gap between the Time card and real time.

Protable encode card ability-Generate Setting card
It offers a solution that program Setting card by leaving PC away.By handing the LMA, users do not need make setting card on PC desk.The benifits to user is, you will not need take a lot of Setting card for all rooms and make them on PC firstly.
Now, you can hold one card and program it for different ID setting card for Energy savers or Wall readers while doing initialization.

Collect lock events on Wall reader CA128
Common doors reader could also be collected lock events by LMA. Actually this is not a function only on v1.2 but also on v1.1. Most users do not know this function and they do not need know who access the common door at when.
Still we offer this function to user who really needs it.

Notice:If your LMA is in v1.1 version and you are very care of the above new added functions using in your hotels/resorts, you can deliver LMA to Xeeder and we will update your device by free of charge.
However, the LMA v1.1 is still good product.It not gives any problems for you enjoy it. What we did is improve it to let it be better.LMA v1.1 will stop manufacture on November 2011