Xeede Hotel Lock System Networked Wireless is a new system with specific features that developed especially with the needs of large hotel and office building. Wireless door lock is easy to install, adopts current international advanced new wireless networking technology-Zigbee 2.4G wireless technology.
Xeeder networked lock wireless is
1. Easy to install. No need wiring between the lock and front desk of hotels/control center
2. Live report of lock events!
3. Use AA battery.
The basic feature and networked feature coincide with other networked lock (TCP/IP, RS485): locks are networked to computer via hotel's own front desk operative management software. Through front desk, personel is able to download data to lock, remotely control locks, live monitor the lock status, when open the door can instantly receive the unlocking audit trail to know where and when the keycard was used, with the date, time, and whether the lock allowed or denied. However, the lock part no need to do some tedious works such as hard wiring, each floor just need one standard network cable to connect center node ( LA171), then is can be composed of a wireless network, achieve to transfer and control wireless data between front desk and locks.
Wireless lock working architecture is as the following.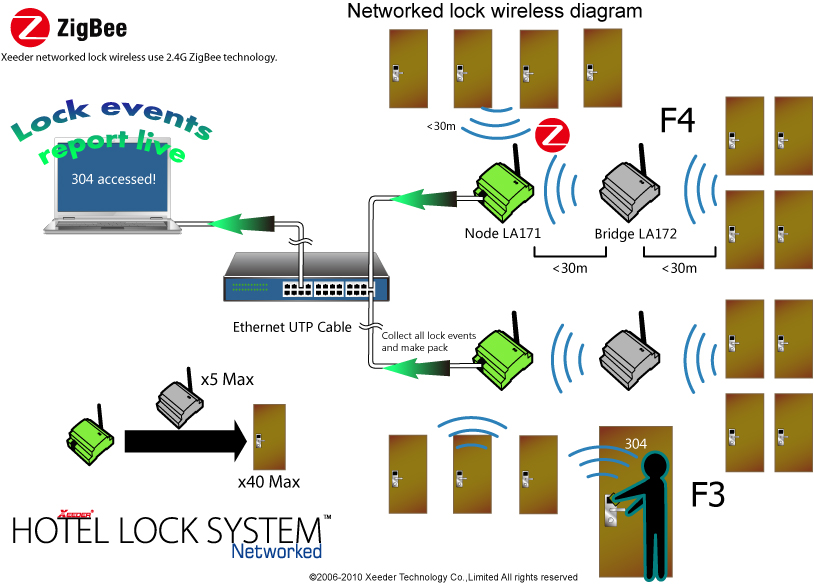 ZigBee is the set of specs built around the IEEE 802.15.4 wireless protocol. The IEEE is the Institute of Electrical and Electronics Engineers, a non-profit organization dedicated to furthering technology involving electronics and electronic devices. The 802 group is the section of the IEEE involved in network operations and technologies, including mid-sized networks and local networks. Group 15 deals specifically with wireless networking technologies, and includes the now ubiquitous 802.15.1 working group, which is also known as Bluetooth®. The standard itself is regulated by a group known as the ZigBee Alliance, with over 150 members worldwide.