Modify language:
If you think some menus or information tips are not completely suitable for you in special case, change it as you want.
Step1:
Find the language folder in the system setting folder, open it and select the language type you want to modify. For example: English.

Step2:
There are several language files in the folder, open "ENU". It is English language file's name.

Step3:
Modify some descriptions of this file and save it. When you start system next time, the change you did before go into effect. However, some information you can not modify, such as the language ID, 1033 corresponds to English which has been set in system, if you change it, system can not identify, then there will no "English" shows in menu "Languages".

Quickly search:
Shortcut Keys :Ctrl + F
Because of tips in language file are much many, you can use shortcut keys to accurately search any information you need to modify.
E.g. Search "System is communicating with lock...", then press "Ctrl + F", message box will pop-up. Input "System is communicating with lock...", then press "Enter" or click "Find next" to fix position. It's very easy to manage.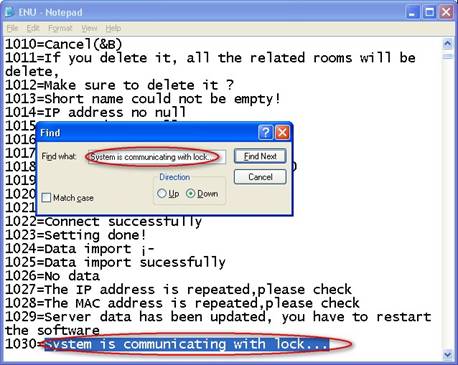 Step4:
Restart system. If you fill in incorrect password when you start up system, the warning has become to the new you modified: The password is wrong!. But not "Failed! Invalid Password!"